Safety Showers that Thrive in Extreme Environments
INSULATION – ShieldSafe's cold and hot-climate, tank-fed showers are entirely insulated. No part of the tank is exposed to the elements, which dramatically reduces leaks and other weather-related problems.
TANK PROTECTION – ShieldSafe's updated tank design encloses the tank in an insulated steel shelter, so it's not exposed to direct sunlight; this substantially reduces solar-induced heat gain and other weather-related problems.
ENCLOSED CUBICLES – Heavy duty, gravity-fed cubicle safety showers protect accident victims from extreme outside elements, such as very cold or hot temps, harsh sun, and hurricane-force winds up to 165 mph.
CLIMATE CONTROL – Immersion heaters, cubicle heaters, and water chillers help maintain tepid water temperatures in the tank, as well as a climate-controlled environment in which the victim can receive treatment.
REMOTE LOCATIONS – ShieldSafe's best-in-class SafetyRig, and the small, but mighty EcoRig over exible, mobile protection. These two portable safety showers make it possible to easily put showers in locations with little or no potable water—especially places that would otherwise be unsafe to work in without a safety shower.
HIGH-QUALITY CONSTRUCTION – Often, lower-end safety showers are made up of berglass glued to a spindly frame, which is susceptible to warping and other durability issues. ShieldSafe's showers are constructed from a no-seam, powder-coated steel for a durable lifetime.
Built to protect victims from the harshest
conditions, such as subzero temperatures and
scalding hot environments.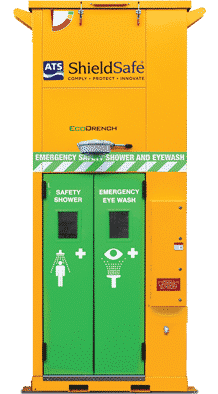 Call to talk to to a ShieldSafe expert to find the perfect safety shower for your specific location.
Call Us Today 800-747-9953