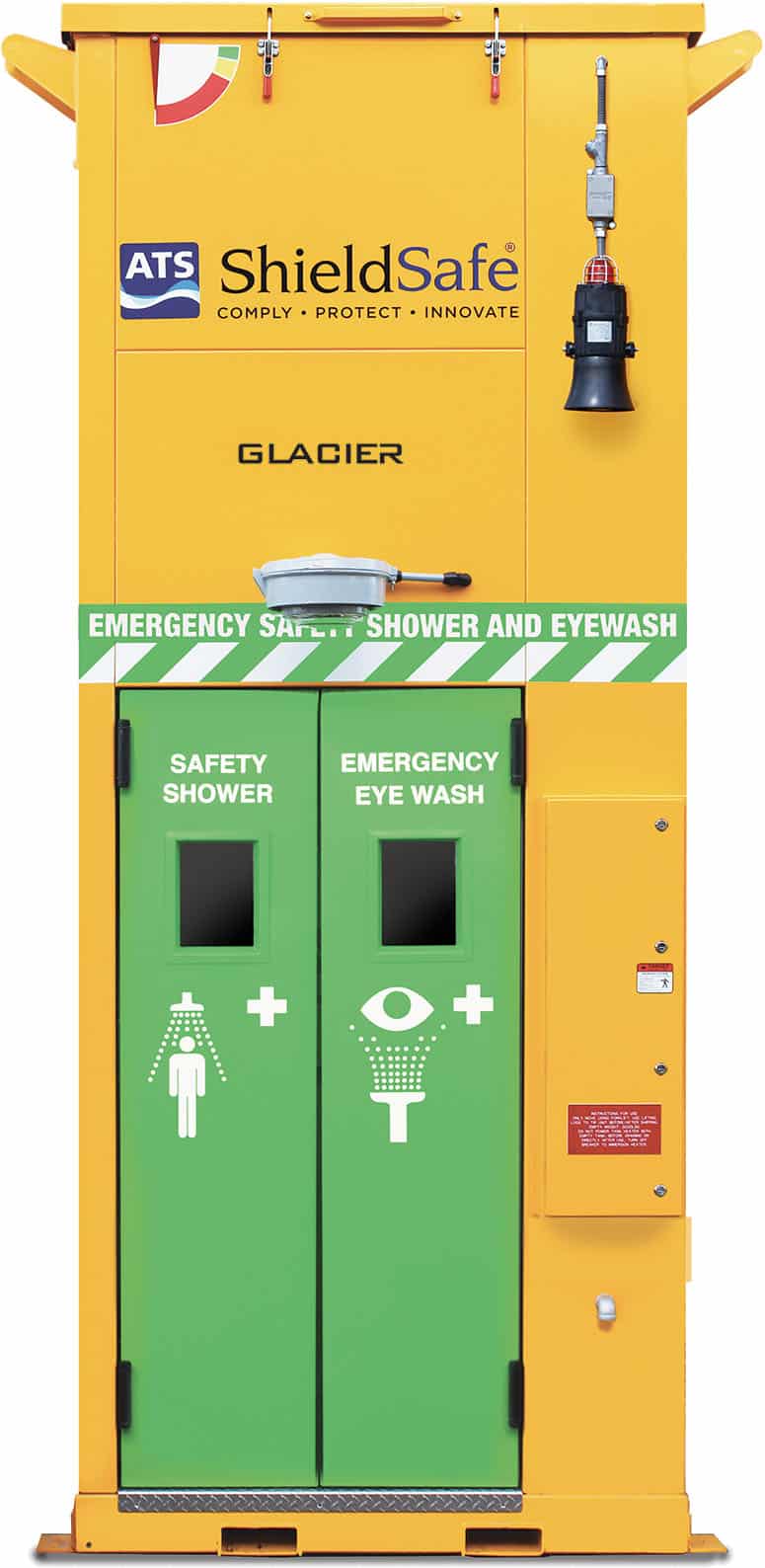 Ships from and sold by ATS, LLC
Self-Contained Cubical Safety Shower for Cold Environments
The ATS ShieldSafe™ Glacier™ safety shower is unmatched in its ability to function in cold environments. It provides chemical accident victims with a climate-controlled environment in which to be treated, as well as critical protection from wind.
Fully Enclosed and Self-Contained
1250-Watt Immersion Heater
Double Walled with R-12 Insulation
500-Gallon Water Tank
Compliant with ANSI Z358.1 (2014)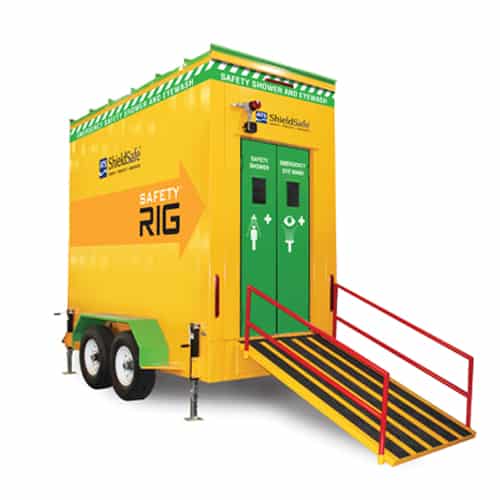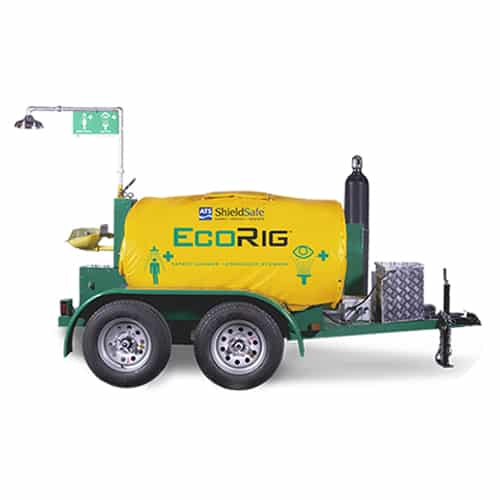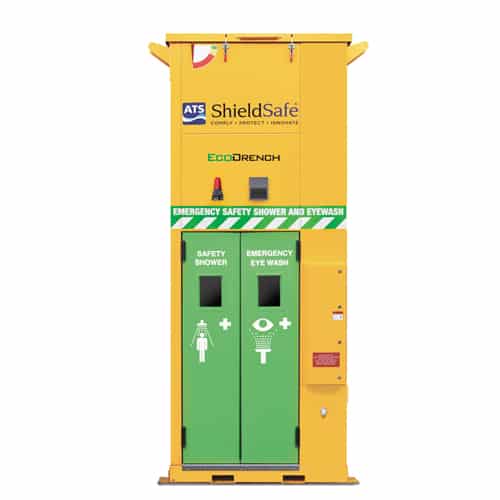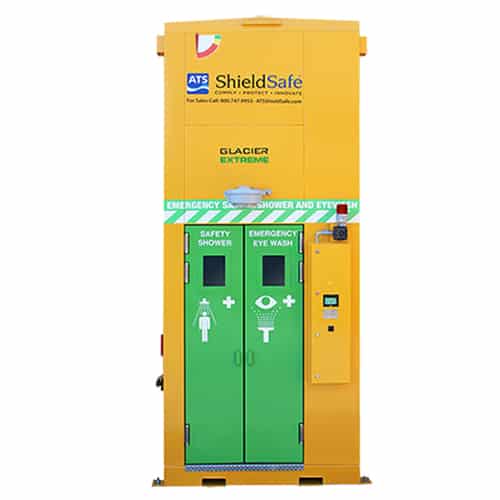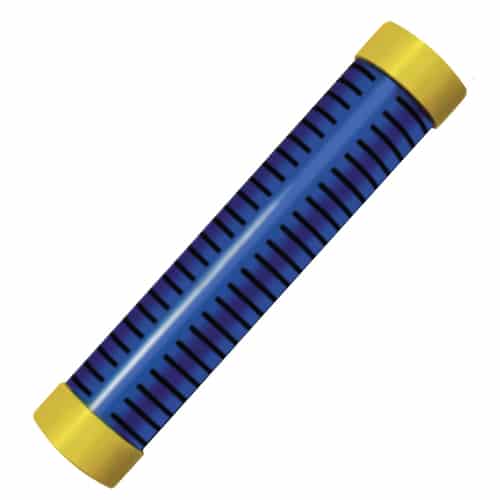 WaterGuard™
Safety shower water filtration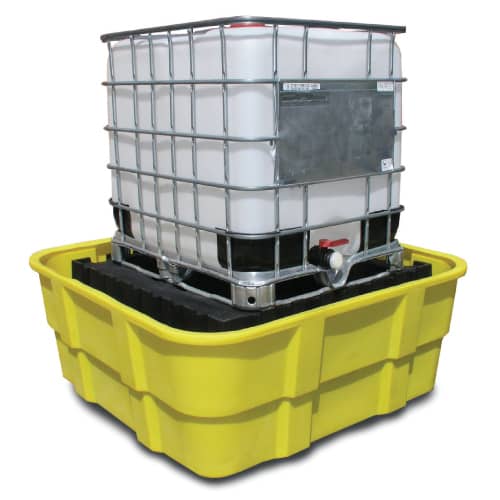 Containment Berm
Incident Containment System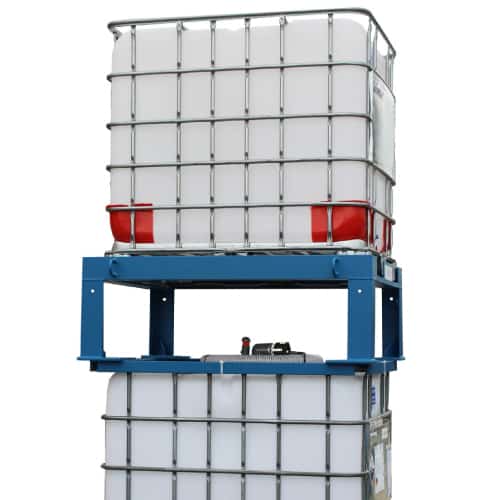 PermaTote™
Chemical safety system
About the Glacier™
The most robust cold weather shower on the market
The Glacier™ is a polar, gravity-fed safety shower that is fully compliant with ANSI Z358.1 (2014) and will function in harsh cold conditions (down to 0°F/-17.8°C). A 750-watt immersion heater keeps the Glacier's 500-gallon water tank within the tepid temperature range. The climate-controlled cubicle is heated and insulated to protect accident victims from frigid outdoor conditions while they receive critical emergency treatment for exposure to corrosive chemicals.
This robust industrial safety shower and eyewash is designed for extremely cold climates and dangerous windy conditions. The Glacier is built with high-quality materials and rugged construction to provide a long, durable lifetime. It can be outfitted for use in explosive environments and marine environments that include unique safety and durability challenges.
Features You Need. Options You'll Want.
See the Glacier's assortment of features and available options.
500-gallon water tank protected by cubicle
Insulated, galvanized steel structure
Insulated dual-action spring-loaded doors with windows
UV-resistant powder coating
Double walled with R-12 insulation
Compliant with ANSI Z358.1 (2014)
UL/CSA components
165 mph wind load capacity
Tank-fed eyewash with activation cover
Abs shower head - 20 gpm
Integrated drain system
Self-contained/gravity-fed heated water
Low-temperature dump valve
2" manual quick drain tank valve
Interior LED light
External LED lights above doorway
Forklift slots and lifting lugs
Water temperature gauge
Remote signal capable
Configurable as C1D2 unit
Water temp alarm switch
Low water level alarm switch
Alarm horn and beacon w/switches
SafetySac™ after-incident system
WaterGuard™ (2-year water treatment)
PermaTote™ chemical safety system
Containment berm system
Filtration system
Technical Data
Specific details about the Glacier
120V, 30A, single phase, 60Hz
240V, 20A, single phase, 60Hz
What Our Customers Are Saying
Don't just believe us—read what our customers are saying.
"Thank you guys for the best customer service. It's GREAT to see a company take pride in that department."
"I look forward to working with you on the next order. You and your team are top notch!"
"Over the past 35 years, I have talked to many companies and was quite impressed with your level of knowledge."