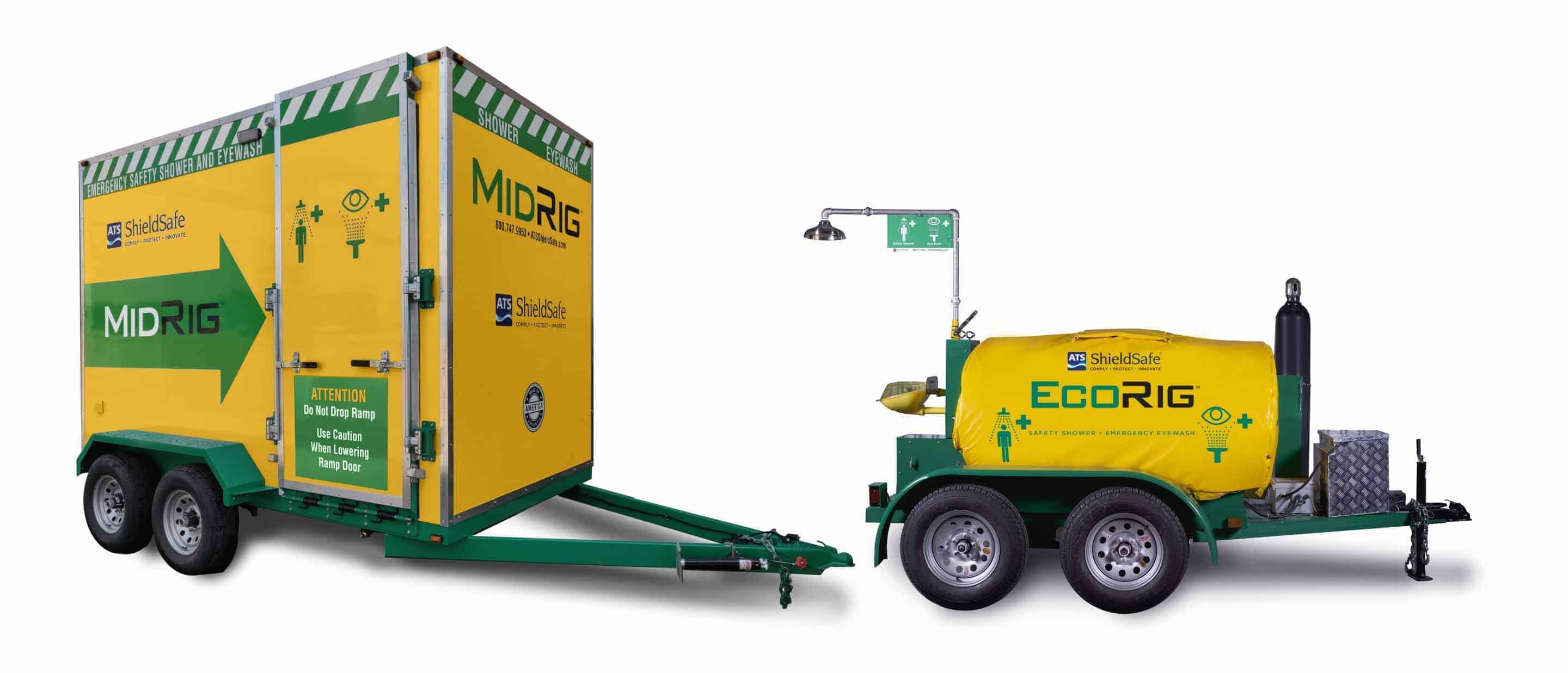 The Flexibility of Renting
ShieldSafe® rentals can be on-site and operational long before you can complete the paperwork and financial approvals to purchase a safety shower.
5 Questions to Ask When Selecting a Safety Shower Rental
Is the Shower Constructed of Wood?
Showers that use wood in their construction can quickly rot and warp under harsh conditions. Hidden rot jeopardizes the safety of your employees. ShieldSafe showers have no wood components and can withstand high winds, floods, and extreme temperatures while maintaining optimal performance.
Why Consider a Gravity-Fed Shower?
The more parts involved in a shower, the higher the likelihood of failure when the power goes out, pneumatic hoses leak, etc.
The longer a shower is on-site, the higher the failure risk. The SafetyRig's simple design avoids power problems by leveraging
gravity to ensure water flow, making it among the safest showers, especially for remote locations.
How Is the Shower Manufactured?
Most mobile safety shower products are merely retrofitted cargo trailers. ShieldSafe safety showers,
on the other hand, are designed and built from the ground up using certified safety shower components
integrated into a proprietary all-metal trailer design.
Which Safety Shower Best Meets My Needs?
Rental safety showers are designed for various applications and customer needs. Don't overpay for features that aren't
necessary, but don't buy an inexpensive shower that doesn't meet all of your needs. Talk to a ShieldSafe expert who will listen
to your needs, ask the right questions, and provide the ideal shower that meets your specific requirements.
Will I Have Access to Safety Shower Experts?
Every ShieldSafe shower is backed by engineering expertise that protects human life and provides
corporate entities with peace of mind. Recently, ShieldSafe's staff received an "A grade" for Overall Supplier
Performance from an independent rating service.
ShieldSafe's expert team is always ready to discuss everything,
from tepid water requirements to transportation and delivery.
Call Us Today 800-747-9953