When your job site faces challenges, you may fret about problems that may arise, including no potable water or low-flow piping. (due to weather or corrosion) For worker safety and protection, you need an ANSI-compliant safety shower/eyewash station at construction and industrial sites, as well as on refineries. It's imperative that your emergency shower meets all ANSI standards, so think about a self-contained cubical safety shower. Our gravity-fed, high-quality safety shower, EcoDrench, functions independently of a water supply. it can also connect to a potable water line for easy auto-fill. We put a top priority on the best safety and privacy equipment for workers, therefore, ALL our safety showers are ANSI compliant.
Challenges Facing On-Site Work Areas
Safety remains a big issue for workers on-site. Many hazards face construction workers, as well as for miners, industrial, and oil refinery workers. These commonplace issues include weather conditions, accidents involving falling, falling objects, stepping on sharp objects, and exposure from dangerous chemicals or environmental dangers or accidents, such as clothing fires. When it comes to having a safety shower, OSHA requires standards that ensure safety, protection, and worker privacy.
A few of these requirements include an accident victim being able to reach the safety equipment in no more than ten seconds – particularly if exposed to a highly-corrosive chemical. ANSI states that an average person walks 55 feet in ten seconds; however, this doesn't account for an emotional state of mind, as well the physical inability in an emergency. Using common sense and caution is the best rule. If your safety shower doesn't have the required features to efficiently protect your workers, you have a problem. For instance, if your safety shower is ANSI Z358.1 non-compliant, can't withstand weather conditions, or doesn't have a self-containing option, you can't be sure of worker safety. Who wants that on their conscience? If the safety shower doesn't hold up to the elements, what good is it?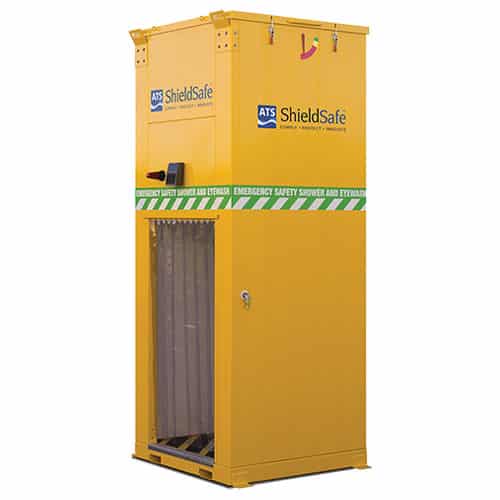 EcoDrench Fits the Bill for a Cubical Safety Shower
Whether you're looking for a compliant emergency shower or need a cubical safety shower, the EcoDrench has you covered – literally! We designed and built our self-contained, cubical emergency shower to last. Best, it withstands hurricane winds upward of 165 mph! It has all the protection you need and privacy you want with heavy-duty curtains that allow optimal privacy and protection from the weather. Among the several benefits of EcoDrench, you will find:
ANSI tepid water
Protected water tank
Heavy steel construction
Enclosed for ultimate privacy and protection
Gravity-fed
Saves on unnecessary running or replacing potable water lines
UV-resistant, powder-coated steel
750-watt immersion heater
Dual UL/CSA components
Integrated drain system
Tank-fed eyewash with activation cover
The EcoDrench carries with it many options, such as double spring-loaded doors with windows (non-insulated), low water level alarm switch, and filtration system. A beneficial option includes the SafetySac™ after-incident system. We also offer 2-year water treatment with Waterguard, ™ and Permatote,™ a chemical safety system.
Contact ATS ShieldSafe™ For More Information
For more information concerning the EcoDrench, as well as our other ANSI compliant cubicle safety showers, please contact us at 800.747.9953. Our ShieldSafe experts will sit down and discuss with you, your needs and help you become ANSI compliant and the best source for worker safety. Call us today for our best cubicle safety shower on the market.