Self-contained emergency showers have many benefits, which provide for fully-compliant ANSI Z358.1 2014 safety shower/eyewash treatment. In environments where no potable water supply exists, there remains a challenge to ensure worker safety. Many large industrial sites and buildings are designed for general use and therefore lack water lines to all process areas; thus, these areas require the protection of a compliant, self-contained safety shower.
Challenges Concerning Potable Water Supply for Safety Showers
Aside from the cost of adding new potable water lines to process areas, if older sites already contain existing potable water, scale build-up becomes a problem. Buildup can choke off potable water flow, making safety showers non-compliant with flow rate requirements, which puts chemical accident victims at risk. Choosing a self-contained emergency shower out-strips the cost and eliminates the nightmare of trying to either become compliant with costly new piping or repairing old piping.
Ensuring the required 60° to 100° F tepid water temperature for all safety shower and eyewash units poses challenges in harsh climates. Needing to pipe water becomes a costly venture in frigid conditions since they can freeze, burst, or corrode. A great feature of self-contained emergency shower/eyewash equipment is that they can be plumbed into low-flow water lines for ease of filling heated flushing fluid reservoirs.
When Do I Need a Self-Contained Safety Shower?
Whether your workers are on-site constructing buildings or inside a lab working with corrosive chemicals, a safety shower is crucial. Having a self-contained emergency shower becomes a requirement when no potable water supply exists. Also, if there's already piped water flow, it can be difficult to know how effective the pipes are, or whether the pipes are even working – particularly when it's needed the most. Self-contained emergency showers allow for full protection without the need to run water lines to the area. Some useful features of many self-contained safety showers are:
Compliance with ANSI standards
Meets tepid water requirements
Privacy/weather protection
Temperature-controlled environment
Fully enclosed
Small footprint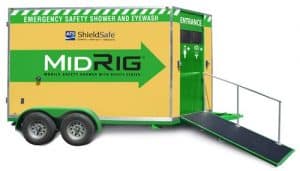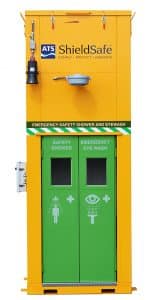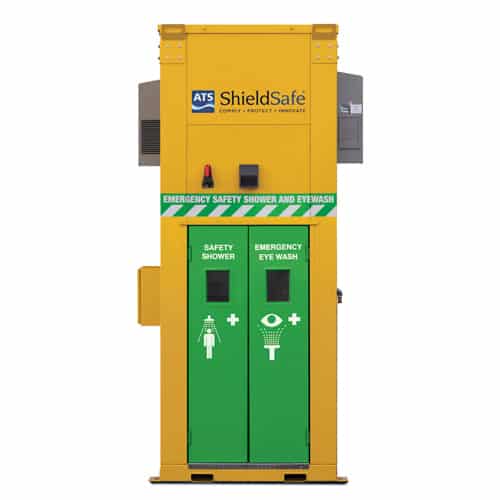 ATS Offers High Quality Self-Contained Emergency Showers
ATS ShieldSafe carries a line of safety showers for complete worker protection and compliance. We also have safety showers with their own water tank, so no piping is needed. We build all our safety showers to last and offer many options. Our safety showers include our newest model, the MidRig™, as well as the EcoDrench™, Glacier™, Tropic™, EcoRig™, and SafetyRig™. We also offer enclosed, portable, and hot and cold climate showers, as well as C1D1 and C1D2 showers for areas that are considered hazardous because of explosion or fire hazards.
Please contact our knowledgeable safety experts at 800.747.9953 for more information on all our safety products.