Is this your situation? Your workers on a construction site need a safety shower system that can travel with them on different job sites. Many safety shower trailers on the market today are merely converted cargo trailers with wood structures. Be aware of the things you should be looking for when purchasing or renting a safety shower trailer in today's blog post.
What to Look for when Choosing a Safety Shower Trailer
As stated above, the safety shower trailers on the market today don't fit the bill for ensuring your workers get the protection and privacy they need, where they need it. Renting a portable safety shower/eyewash trailer unit provides on-the-spot, first line of defense to protect workers should an emergency occur. Here are 8 features to consider when deciding what's best for your workers and work conditions, of which our shower trailers meet.
Construction – A heavy-duty shower trailer is essential for on-site workers. Weather conditions can change quickly, and if a chemical accident happens, a worker has 10 seconds to get to a drench shower, with a treatment time of at least 15 minutes. Couple that with brutal weather conditions and things can turn for the worst. A steel safety shower trailer with no wood components is ideal with durability lasting for over 10 years, ensuring a favorable ROI. Aluminum body and panels allow for insulation, as well.
Portability – if your workers move around job sites, it's optimal, a safety shower trailer moves with them. Plus, having a movable trailer allows it to double as a first aid station when on the move. Your workers will never worry whether the trailer is available when needed.
Renting, Buying Option – What if you only need the trailer for a certain amount of time? The ability to rent instead of purchasing is something to consider, since renting allows you to obtain it quicker than waiting for approval and paperwork.
Water tank – Look for a large capacity water heater that holds at least 400 gallons and is ANSI compliant for tepid standards. Note: Showers will need to be refilled after every accident, since they won't have enough water for multiple accidents.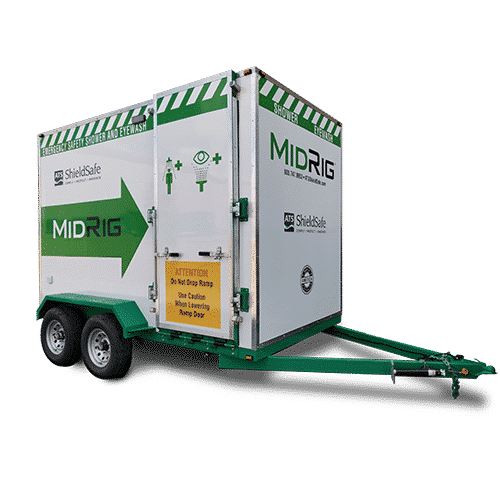 5.   Dropdown ramp – When victims need to get to the safety shower trailer immediately, easy access becomes crucial. A Drop-down ramp allows someone to quickly get inside the trailer for treatment without obstruction, which follows the ANSI standard. 
6.   Dropdown trailer stabilizers – Enclosed trailers need stabilizers to keep them grounded and safe, especially if storms result in slippery road conditions. Our safety trailers come with dropdown stabilizers for accident victim safety.
Note: The EcoRig™ does not have stabilizers, instead includes a double axel unit that provides additional stabilization.
7.   Trailer safety lights and brakes – When other vehicles on the road can't see when you brake, chances are higher an accident will happen. Choose an emergency trailer with highly visible, bright lights and brakes. This adds extra safety and protection for everyone involved. All our trailers adhere to DOT standards.
8.   Portable handrails – If you splash chemicals in your eyes, your vision becomes affected. When getting to a trailer, you want the assurance of a safe ramp to climb – without obstacles in your way.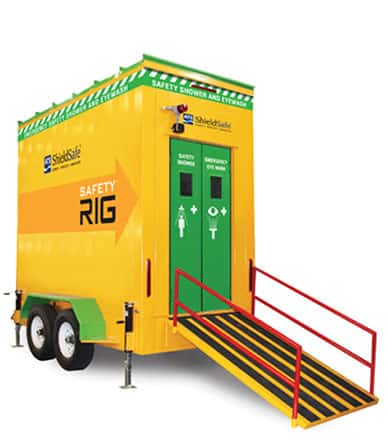 Benefits of shower trailers
When you need a flexible option with emergency showers, a shower trailer gives you the best of both worlds. Here are some of the benefits of investing in a safety shower trailer unit:
Self-contained mobile safety shower/eyewash with an optional heating/cooling station
Can be converted into an ANSI first aid
C1D2 upgradeable
Privacy/weather protection
Temperature controlled
Heavy duty steel construction
Small footprint
And more!
What's great about ATS ShieldSafe® safety shower trailers is they are fully enclosed, allowing complete protection from the elements. They also eliminate the need for ANSI required weekly activation tests and only a simply weekly visual water level verification is needed. The MidRig™, specifically includes a 450-gallon tank with an immersion heater to maintain the water temperature of 60°F to 100°F.
Discover More Safety Shower Trailer Features
The above list of features to consider is no way exhausted. Contact ATS ShieldSafe to see what safety shower trailers fit your situation and work conditions. Our team of safety experts can direct you to the right shower, which includes full ANSI compliance, safety and protection, and many options. Call us today at 800.747.9953.