Working in cold temperatures is a challenge in and of itself, however, it becomes much worse if an accident occurs and workers need an emergency shower for vital treatment.  An emergency enclosed shower, therefore, offers protection for accident victims that may well be at risk for hypothermia from biting temperatures and high winds. Ensuring workers have access to an enclosed safety/eyewash station could be pivotal to not only their health and well-being but to their privacy, as well.
Cold Climate Safety Hazards
As explained above, cold temps and wind add additional risk to workers on-site. If an accident does occur and a worker has no accessibility to an enclosed emergency shower for protection and privacy, how likely is it that they will stay under the flushing fluid for the ANSI required time of fifteen minutes? Now think about needing to remove ALL clothing and stay under a shower for that time or longer. In extremely cold temps and very little wind, hypothermia can develop within 30 minutes, or earlier depending on the temps and wind chill.
Other cold climate safety hazards include an increased risk of slipping and falling, thus making chemical spillage a higher likelihood. If cold temps result in pipes freezing, preventing water flow in safety showers, that could create a dangerous situation. Shrinking fittings, due to the cold, is also a possibility.  In colder temperatures, employees may not want to spend time on safety precautions. They may inadvertently rush things to get out of the cold and to their families for the holidays. Careless mistakes can end up costing workers their lives, in some cases.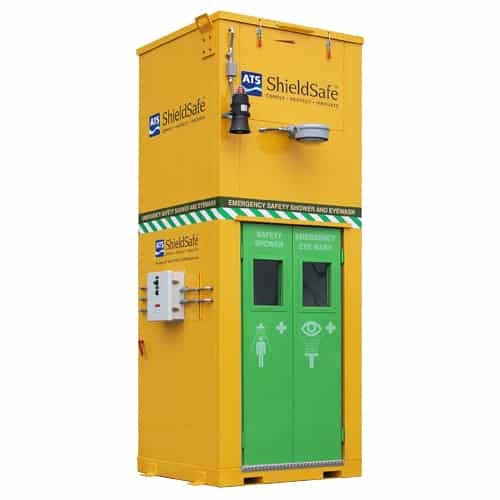 The Features of an Enclosed Emergency Shower
There are several types of safety showers you can choose from, but at what cost to worker safety and privacy? To cut on cost, some companies convert trailers into safety showers, thinking that will work. However, to ensure optimal safety and privacy, as well as full OSHA compliance, choosing an emergency shower that is fully enclosed and self-contained is your best bet. ATS ShieldSafe® carries safety showers, including the SafetyRig™, one of our most durable, yet portable safety showers available. Features of the SafetyRig is such that it's gravity-fed, completely enclosed and heated. It also has the built-in capability of containing spent shower and eyewash wastewater. This makes it ideal for harsh climates.
Other Features of an enclosed emergency shower include:
A ramp leading to double, spring-loaded doors (SafetyRig) for optimal privacy and protection
Interior lighting for maximum visibility
Exterior ramp light to ensure visibility from blinding conditions (SafetyRig & Glacier™)
Heated 500-gallon corrosion-resistant freshwater tank mounted in the ceiling of the trailer (SafetyRig)
Pneumatic pump that transfers water to the upper tank (SafetyRig)
165 mph wind load capacity (Glacier™ & SafetyRig)
Low-temperature dump valve (Glacier)
The capability of including a water temp alarm switch and low-level water alarm switch (Glacier)
Optional containment berm system, and more!
Another great feature is the ability to outfit the Glacier for use in explosive environments, such as on a rig or at a refinery. This makes it one of the best safety showers on the market. Best of all, EVERY ATS ShieldSafe shower is 100% compliant with ANSI Z358.1. (2014)
ATS ShieldSafe has the Privacy and Protection You Need
From harsh, bitter-cold climates to blistering hot conditions, we at ATS ShieldSafe have you covered with the most robust emergency enclosed showers available. Our team of knowledgeable safety experts know the risks to workers and can determine if your current showers meet expectations and are ANSI compliant. Please call us at 800.747.9953 today! We look forward to speaking with you.