With cold conditions settling in for the season, it's vital you're prepared to protect your workers. The last thing an accident victim needs to worry about is whether a safety shower will operate correctly. To resolve this problem, some companies think
heat tracing
will do the trick but does it really take care of the need for tepid water safety showers or does it only cure a small part of the problem? It's true that heat tracing is an effective method for preventing safety shower and eyewash units from freezing; however, you should consider a heated safety shower that's fully compliant and here's why.
The Problem with Heat Tracing
Heat tracing to prevent frozen pipes seems like a good idea; however, it's only a short-term solution and one that doesn't include full ANSI compliance. The standard requires a minimum of 306 gallons (1,158 liters) of water for the full 15-minute flushing fluid requirement. Heat traced water only applies to a small amount of water discharged; thus, if the water isn't tepid to start with, the new water entering a safety shower/eyewash equipment won't be in the required temperature range. Non-compliance brings with it heavy fines and worse, a risky situation for workers.
There are other problems associated with heat tracing, such as:
Circuit breaker trips – two ways this happens: the circuit tripping suddenly when powered-up or tripping up seconds after startup.
Circuit temperatures too low – when a cable isn't connected to power or connected to the wrong voltage, it can decrease the temps. A thermostat or process controller setpoint that isn't correct or not enough cable to offset the heat sinks in the system can also be an issue with heat tracing.
Circuit temperatures too high – conversely, the same thing happens with too high of temps.
Long-Term Solution with a Heated Safety Shower
Heat tracing isn't guaranteed and sometimes results in more headache and cost, therefore the best solution includes a heated safety shower. At ATS ShieldSafe, we carry the best heated, gravity-fed emergency showers in the business. This means a continuous flow of tepid water in the range of 60°F to 100°F for the full required time. Unmatched in its capability to function in bitterly cold conditions (down to -40C/F), the Glacier™ is a fully-enclosed heated safety shower that includes a 750-watt immersion heater. Built for extremely cold temperatures and even hurricane-strength winds, this shower is ideal for winter. You can also choose to have it outfitted for explosive and marine environments, which carry unique safety and durability issues.
The SafetyRig™, one of our mobile and heavily-insulated emergency safety shower trailers, is a one-of-a-kind unit. It includes a heated 500-gallon corrosion-resistant freshwater tank mounted in the ceiling of the trailer and a pneumatic pump that transfers water to the upper tank.
The MidRig™ is another uniquely-designed, heated safety shower that features a 450-gallon tank with an immersion heater to maintain the water temperature required by ANSI Z358.1 2014. The MidRig also comes with an integrated eyewash and has the ability to double as a safety trailer with an optional heating/cooling station as well as a first aid station. It provides much-needed protection and privacy for accident victims.
Another gravity-fed cubical safety shower is the EcoDrench™, a self-contained safety shower and eyewash. Built to withstand harsh environments, the EcoDrench solves the issue of no potable water or low-flow piping. It's in full compliance with ANSI and functions independent of a water supply. The shower also allows for a potable water line connection for easy auto-fill.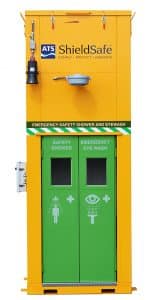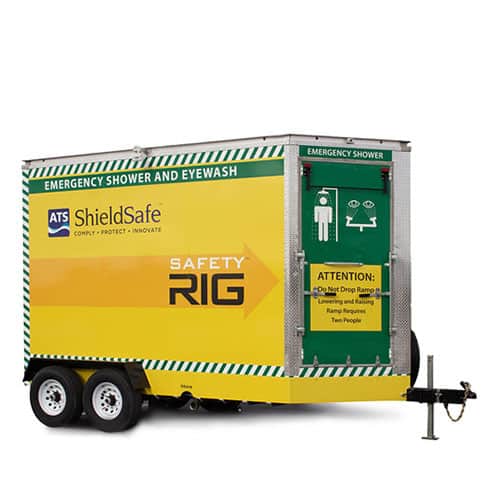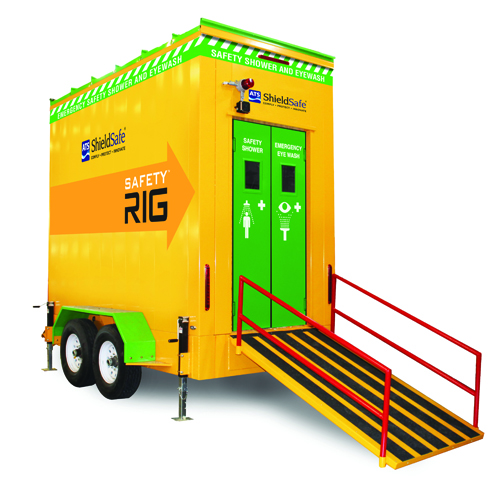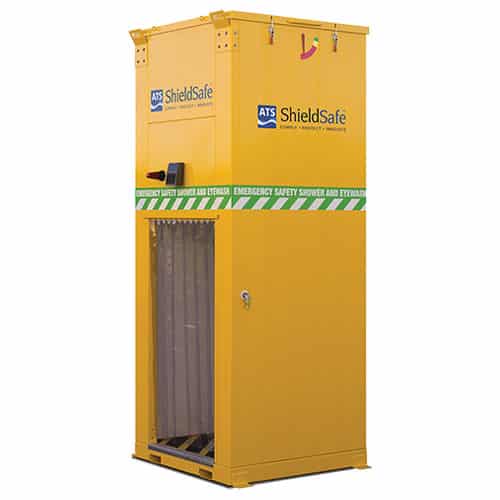 Contact ATS ShieldSafe® for Heated Safety Showers
To save on cost and hassle with heat tracing and to learn about all the products we offer, contact our ShieldSafe team of experts. They will speak with you about your safety concerns and match you with the perfect heated safety shower. You can reach us at 800.747.9953. We hope to be your solution for worker safety, so please call today!