When seconds count, police are minutes away. When a chemical accident occurs, safety showers are seconds away; however, just how reliable are they? Wood or fiberglass constructed showers don't last nearly as long as strong steel. Your workers deserve the best in safety and privacy. Discover in today's blog post, ATS ShieldSafe's
line of safety showers
– all built with the strongest safety shower construction and made to withstand even the toughest environments.
Wood Versus Steel Safety Showers
It's true that anything wood will rot if exposed to long-term moisture or heat/cold environments. It's no different for safety showers. ANSI standards for Showers/eyewash units don't state construction regulations, but for workers on-site in extreme weather conditions, it's crucial that safety shower/eyewash stations withstand harsh environments.
The differences are vast regarding using steel versus wood safety shower construction, including:
Steel framing will not rot, warp, split, crack, or creep
Does not expand or contract with moisture content – ideal for storm-prone environments
Steel framing provides considerably greater strength-to-weight ratio than wood
Provides long-term consistent performance
Is a non-combustible material and won't contribute to the spreading of fire
Withstands hurricane-strength winds and earthquakes
Provides environmental benefits and complies fully with ANSI and OSHA standards
As you can see, choosing a steel safety shower just makes sense.
ATS ShieldSafe's Steel Showers/Eyewash Units
If you're looking for a safety shower your workers can rely on when seconds count, ATS ShieldSafe's line of products are your best bet.
EcoDrench™
Steel constructed and gravity-fed cubical safety shower, the EcoDrench rises above the competition. This self-contained unit is fully ANSI Z358.1 (2014) compliant and can function independent of a water supply or connected to a potable water line for easy autofill. It allows for outdoor elements, including harsh sun and wind, along with heavy rain and snow.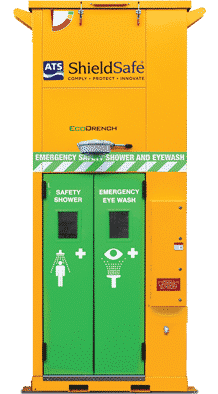 Glacier™
Working in extreme cold environments? The Glacier has you covered with its unmatched ability to function in below zero temperatures. As a fully enclosed and self-contained shower, it's double walled with R-12 Insulation, providing the ultimate protection for accident victims. Its robust, steel construction will last a lifetime.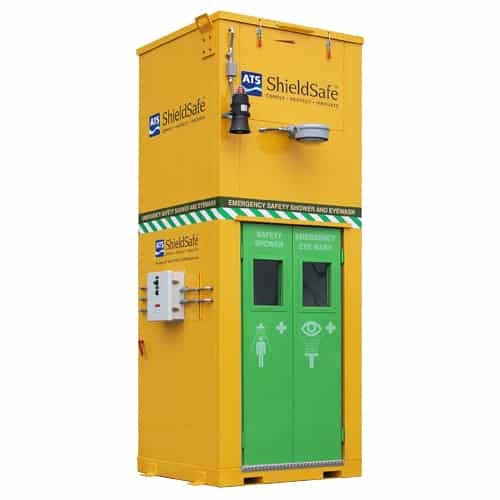 MidRig™
Our made-to-last safety shower, the MidRig, offers a unique feature – it can double as a safety trailer with the option of a heating/cooling unit and ANSI first-aid station. With privacy and protection built-in, the MidRig leaves a small footprint and can be taken where it's needed. Best, it can be used with a pneumatic or electric water pump.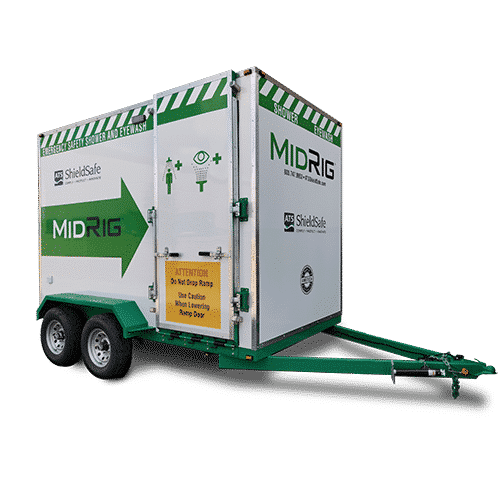 EcoRig™
Designed and built for use in the field, the EcoRig may look small, but its large capacity tank provides over the ANSI minimum of 15 minutes of continuous tepid water flow. Because of its small design, it can go virtually anywhere your workers go, ensuring they get the ultimate in treatment with a solid steel constructed shower.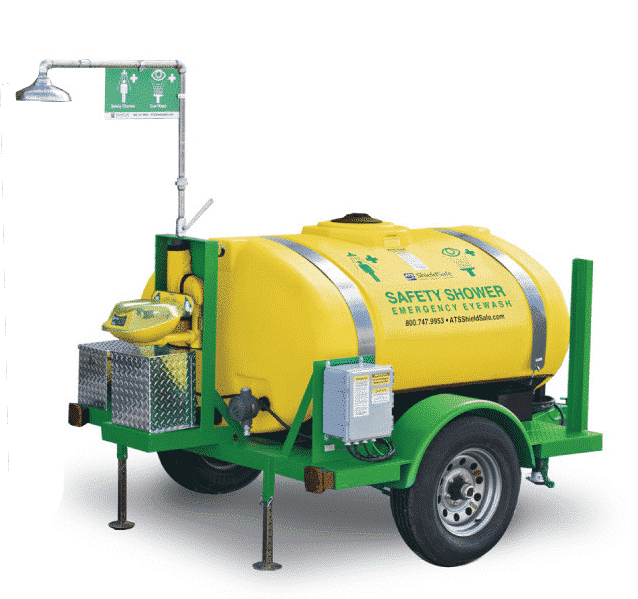 SafetyRig™
The rugged new design of the SafetyRig safety shower and eyewash unit provides for much-needed privacy and protection. With a ramp and side rails, you can easily navigate the saloon-style doors to quickly get the needed treatment in an emergency. The one-of-a-kind gravity-fed design allows for continuous operation without power or pneumatic backup.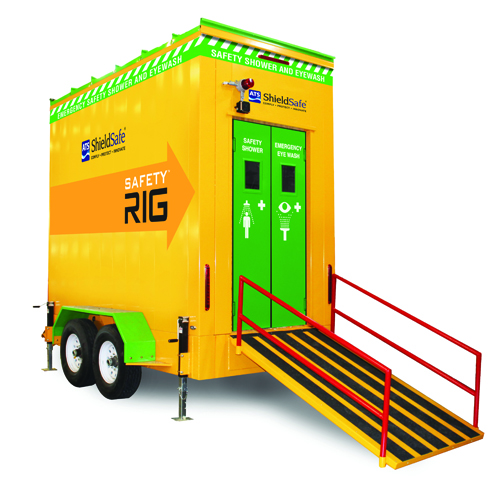 Tropic™
With summer around the corner, you can be the hero of your company with the Tropic safety shower that withstands extreme heat to 120°F. Offering accident victims vital treatment and protection, the Tropic is climate-controlled in a heated and cooled cubicle. Its heavy-duty steel construction can be outfitted for use in explosive environments and marine environments.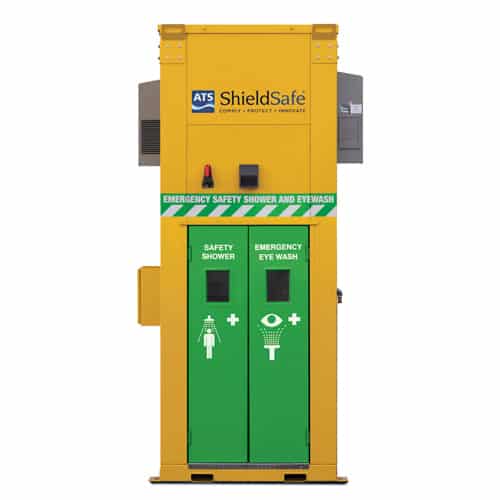 Contact ATS ShieldSafe for Steel-Constructed Showers/Eyewash Units
We would love to guide you to the right safety shower/eyewash unit for your workers, here at ATS ShieldSafe. Please give us a call at 800.747.9953. Our team of safety experts know their stuff with safety shower construction and are eager to help you be the hero for your workers. Call us now!